When there's a choice of money or love, which way would you turn….
At Pindrop we are a bunch of suckers for a romantic comedy and so when our friends at Unstoppable Entertainment asked us to provide the post sound for their film Scottish Mussel we were delighted!
When Ritchie (Martin Compston) decides that he's had enough of city life he is drawn towards the rewarding prospects of a volunteer conservationist in the Scottish Highlands…. as an illegal pearl fisher. At the conservation centre he instantly falls for the beautiful Beth (Talulah Riley) who is leading a campaign for the saving of endangered mussels from the likes of Ritchie and his luckless team Danny and Fraser. When Ritchie gets in too deep he realises he needs to choose between the wealth of the pearls or the heart of his girl, he can't have both…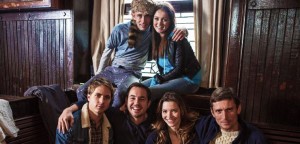 With a stellar cast including Martin Compston, Talulah Riley, Joe Thomas, Harry Enfield, James Dreyfuss and Russell Kane it's no surprise that the Edinburgh Film Festival are debuting it at this years event.
We thoroughly enjoyed creating the soundscape for the heart warming Scottish Mussel and we are sure you will love it too!
Follow the film on Twitter @ScottishMussel